Cincinnati Paper Shredding
Cincinnati Paper Shredding will get you the most cost-effective shredding options for your business and home documents. We understand the desire to protect your private papers, and for every organization in Cincinnati to meet the Ohio and federal privacy regulations.
About Cincinnati Paper Shredding
Shredding is no longer an option for Cincinnati businesses. There are countless Ohio laws that require the proper disposal of confidential business documents. Additionally, FACTA and HIPAA are federal laws that require the shredding of personal information before it is disposed.
The most efficient way to shred a large volume of documents in Cincinnati is to use a shredding service. A professional shredding service can shred rooms full of documents in no time. With industrial shredders, it is a quick and easy job. And with shredding services security is increased because the paper is torn into irregular shapes and then mixed with thousands of pounds of other papers.
Scan It Before You Shred It
Letting go of paperwork that contains confidential information isn't always easy. If you find your home or office filled with stacks of old files, consider scanning them. Having an electronic copy of your document will allow you to shred the physical copy and tidy up your space. Click here to read more!
Cincinnati Paper Shredding partners ensure you receive a certificate of destruction for your records. This is your verification that the work was done properly and in compliance with your records retention program.
Fill out the form on the top of the page or call us at (513) 785-0929 to get free quotes today!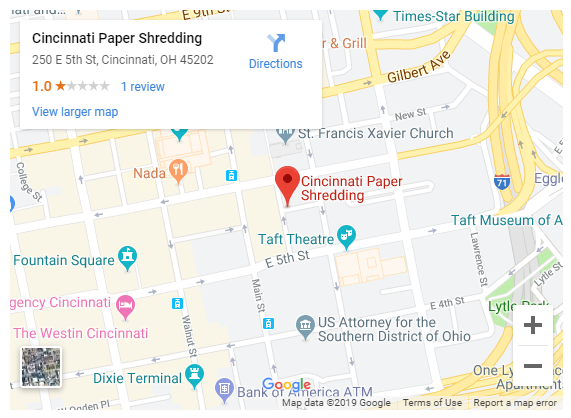 Get Free Quotes on Shredding in Cincinnati
Shredding Services in Cincinnati
Cincinnati Paper Shredding partners conveniently provide different options to fulfill your shredding needs. Here are the two options offered to complete your shredding in a way that works best with your schedule:
Ongoing Service – Best for the business that regularly accumulates sensitive documents. Locked bins are provided at your Cincinnati location and a driver periodically stops by your location to shred the contents.
Purge Service – If you need shredding done one time or just occasionally, have a driver stop by your location and shred your documents for you on or off site. The costs are calculated based on volume.